5 Events for Weekend Fun: Lamanpalooza, Kids Triathlon and More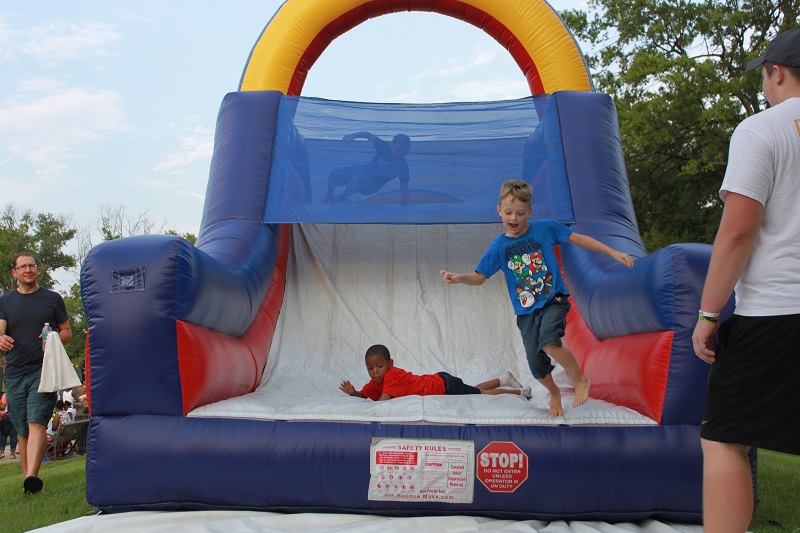 For the first weekend in August, our hearts still want summer fun, while our minds are thinking about getting ready for another school year! Get the best of both at one of these great events for families. The Laman Library's Lamanpalooza offers extravagant fun, while a Back-to-School Health Fair at St. Mark Baptist Church prepares families with free immunizations and school supplies.
And, of course, don't forget about the 2014 Arkansas Sales Tax Holiday this weekend, which can help your family save when you buy school uniforms, notebooks, calculators and much more.

1. Lamanpalooza at Laman Library Argenta Branch in North Little Rock: This year's Lamanpalooza will be held behind the Laman Library's Argenta Branch on North Little Rock's quaint Main St. Outdoor activities include inflatables, a 100-foot zipline, dunk tanks, games, music and crafts. Plus, kids can meet Marty Boone, the balloon-artist on stilts, sit for a caricature by Jim Tindall, and more. The first 2,000 people can snag a free hot dog, drink, chips and a cookie. 10 a.m.-2 p.m. Aug. 2. For info: (501) 687-1061, LamanLibrary.org. FREE!
2. 17th Annual First Security Conway Kids Triathlon at Hendrix College: The Conway Running Club invites children ages 6-15 to swim, bike and run in a triathlon especially for youth athletes. The course is broken down for two age groups, and awards are given for 1st-5th place winners for each division. Kids can also participate in a post-race party with door prizes, bouncy castles, snow cones and more. Pre-registration required. $25. 8 a.m. Aug. 2. For info: ConwayKidsTri.com.
3. Hooray for Herps Weekend at Pinnacle Mountain State Park: Spend the weekend at park interpreters learning about reptiles and amphibians in hikes, craft activities, games and programs where you'll meet live animals up-close. Aug. 2-3. For info: (501) 868-5806, ArkansasStateParks.com/PinnacleMountain. FREE!
4. Dive-In Movie at Magic Springs Water & Theme Park: After a fun day of riding roller coasters and splashing in the water park, guests are invited to stay in the wave pool until dark when a movie is shown on a big screen. This week, movie-goers will see "The Hunger Games: Catching Fire." Free with park admission. Aug. 1. For info: (501) 624-0100, MagicSprings.com.
5. Back-to-School Health Fair at St. Mark Baptist Church: Celebrate back-to-school with this event for students and parents! Students will receive a backpack full of school supplies (while supplies last); free immunizations; free health and wellness screenings for vision, dental and vitals; and free physicals for children ages 4 through college. 9 a.m.-1 p.m. Aug. 2. For info: (501) 663-3955, SMark.org. FREE!
For more events, browse our full online calendar here.
Get Little Rock Family
In Your Inbox
Permalink