5 Restaurants Worth the Road Trips Across Arkansas
Road trips don't have to mean endless hours counting mile markers. We've compiled a list of some of the best family-friendly restaurants around the area, and all are just a few hours away from Little Rock.
So pile the family in the car and head to one of these fantastic dining destinations.
Hot Springs: Chipmunk Cafe at Garvan Gardens
Located within Garvan Woodland Gardens, The Chipmunk Café features fresh-made gourmet sandwiches, wraps, salads, snacks and desserts. The Chipmunk Café is situated near the Garden Railroad and offers concession-style café offers outdoor seating perfect for a sunny day spent exploring the gardens. You might even catch a glimpse of a peacock roaming the grounds around the cafe.
550 Arkridge Road, Hot Springs • (501) 262-9207
---
Northwest Arkansas: Hammontree's Gourmet Grilled Cheese
Who doesn't love a good grilled cheese? Even the pickiest of palates can find something to love at Hammontree's Gourmet Grilled Cheese. With locations in Fayetteville and Rogers, Hammontree's boasts a menu of 15 gourmet grilled cheese creations along with a "build your own" option. Crowd favorites include their blueberry iced tea, gouda-bacon fries and blueberry grilled cheese for dessert.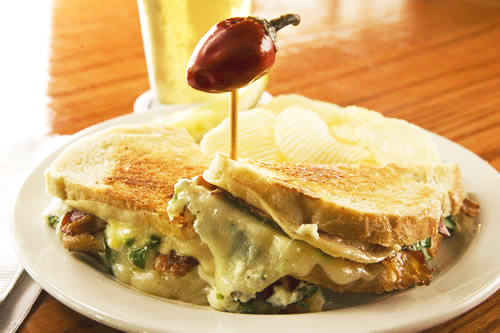 Fayetteville
326 N. West Ave #8
(479) 521-1669
Rogers
113 West Walnut St.
(479) 202-5977
---
Eureka Springs: Sky Bar Gourmet Pizza in the Crescent Hotel
Sky Bar Gourmet Pizza is a perfect restaurant for those adventuresome families who enjoy a thrill. Located within "America's Most Haunted Hotel," Sky Bar is a great location to go before or after a Crescent Ghost Tour — or better yet, stay a night at the hotel. Plus, the restaurant offers a gorgeous view of the Ozark Mountains and a variety of gourmet pizza options.
75 Prospect Ave., Eureka Springs • (479) 253-9766
---
Memphis: Huey's
Huey's has been a Memphis burger staple since 1970. Huey's burgers have been voted Best Burger since 1984 by the Memphis Magazine's Reader's Poll. Sundays at Huey's feature live music such as jazz, blues and rock from local and regional groups. Kids will love the casual atmosphere including a graffiti wall and the ability to shoot toothpicks into the ceiling. With a variety of locations around Memphis, Huey's is a great stop before heading out to explore what the city has to offer.
Four locations in Memphis, see HueyBurger.com for details.
---
Walnut Ridge: Parachute Inn
You can have your cake and eat it, too, in a retired Boeing 737 that never leaves the ground. Located next door to the terminal building at the Walnut Ridge Regional Airport, the Parachute Inn offers a unique dining experience you won't find anywhere else in the state. The menu includes typical American fare such as onion rings, fried green tomatoes, burgers, sandwiches, catfish and steak. Other crowd pleasers include the Parachute Inn's fried ice cream and fried pie with ice cream. During or after the meal, kids (or adults!) can go into the cockpit and have their photo taken in the captain's seat.
10 Sky Watch, Walnut Ridge • (870) 886-5918
Get Little Rock Family
In Your Inbox
Permalink