Staff Movie Picks: Our Favorite Holiday Movies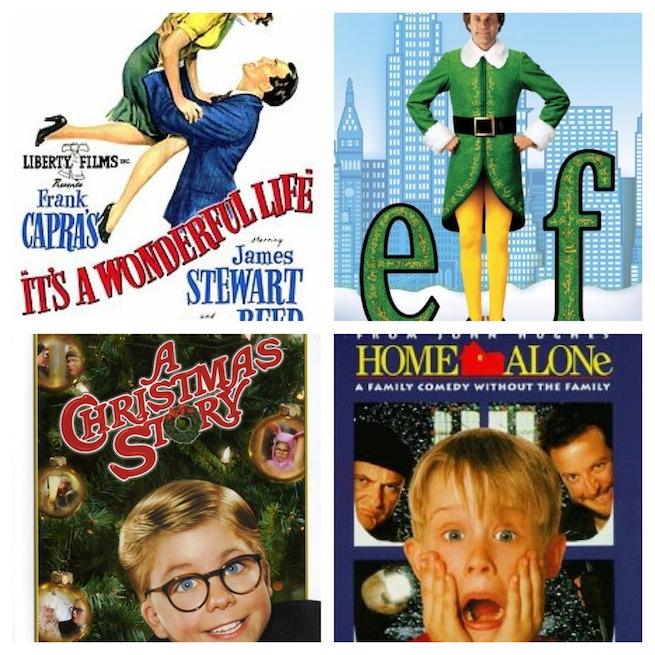 It's true that the holiday spirit can lie with a great Christmas movie.
I was able to gather a few Christmas movie favorites from the staff at the Arkansas Business Publishing Group-- some common favorites and some a little uncommon. Enjoy!
Lindsay Irvin, Editor of Arkansas Bride and Consumer Publications- Home Alone: "I can't get through the holiday season without it. It's still hysterical, and the original movie scores will forever be associated with being a kid at Christmas. Happy times."
Bethany Johnson, Ad Coordinator- White Christmas: "I grew up watching classic movies and this has always been a favorite Christmas movie of mine."
Todd Traub, Managing Editor of Arkansas Business Special Publications- A Christmas Carol (1984 version): "It's fairly faithful to Charles Dickens and has a great performance from George C. Scott."
Amanda Hoelzeman, Editor, Soiree- A Christmas Story:"'Fra-gee-lay, must be Italian!', 'You'll Shoot Your Eye Out!', 'Oh....Fuuudge.' When you add up the number of times my husband and I have watched '24 Hours of A Christmas Story' on TBS, we've probably spent years of our lives absorbing this holiday flick. The movie just embodies that exciting, slightly dysfunctional holiday experience for American kids. It transcends its era, making it a true classic."
Waynette Traub, Senior Advertising Art Director- Christmas Vacation: "'The BLESSING'- we usually shout this before a holiday family dinner's blessing. Although it is usually just Todd Traub and I that think it is funny."
Roxanne Jones, Researcher, Arkansas Business- The Nutcracker (1977)- "When I was younger, I'd watch this every time AETN played it for Christmas. I love this because it introduced me to ballet, Tchaikovsky and the wonderful Mikhail Baryshniknov."
Mark Carter, Editor, Innovate Arkansas- A Christmas Story: "Because Ralphie is us and the 'Red Rider B-B gun' is our hopes and dreams, people…"
Kim Clark, Accounting Assistant: Die Hard: "Nothing says Merry Christmas like a high body count."
George Waldon, Senior Editor, Arkansas Business- Scrooged: "A modern take on the Dickens classic. It's 1980s gold."
Tre Baker, Assistant Interactive Director- It's A Wonderful Life: "Greed, drug overdoses, attempted suicide and poltergeists, this holiday movie has it all."
Brandy Hubener, Consumer Account Executive- Christmas Vacation: "Funniest movie ever that everyone can relate to at some level. We all have some crazy among us!"
Allyson Pittman, Marketing Manager- The Preacher's Wife: Denzel Washington and Whitney Houston teamed up for the ultimate Christmas movie. The soundtrack is so great that I'm not embarrassed to say I have it on repeat all year long, not just during Christmas.
Heather Bennett, Editor, Little Rock Family- Elf: The Bennett family's favorite Christmas movie is of course, Elf. You might even see us hopping through crosswalks, referring to grouchy people as angry elves, and saying smiling's my favorite! Yes, we're those people that quote movies and giggle with our kids while singing at the tops of our lungs in the car. How embarrassing!
Luci Deer, Account Executive, Soiree- White Christmas. "It's a classic and I love the music!"
Blair Neel, Managing Editor, Little Rock Family: The Family Stone: "This is a film about family dysfunction as much as the holidays, and I can't help but relate to the cooking disasters, sibling squabbles and disagreements with mom (even though she's right). Also: Dermot Mulroney and Luke Wilson. Enough said."
Kristen Heldenbrand, Ad Coordinator: A Christmas Story: "I watched it with my parents when I was young, and now my kids watch it with me and my husband. We even have the official Leg Lamp glowing in our front window."
Dana Meyer, Circulation Manager- It's a Wonderful Life: "I know it's a standard holiday film, but one of my all-time favorites. I love how George is able to see what might have been if he had never been born and learns to appreciate the life he has. And Jimmy Stewart is just the best!"
Gwen Moritz, Editor, Arkansas Business- Die Hard: "Die Hard is my favorite Christmas movie because the Christmas theme is woven through the action — and because it was a movie that my husband and I originally saw when we were dating in 1988."
Bill Page, Human Resources Manager- Bad Santa
Mark Friedman, Senior Editor, Arkansas Business- Gremlins: "It's Christmas."
Luke Jones, Assistant Editor, Arkansas Business- Santa Claus Conquers the Martians: "...possibly the greatest movie of ALL TIME."
Rebecca Patton, Senior Account Executive, Arkansas Business- White Christmas: "A Bing Crosby and Danny Kaye classic – a little comedy, a little romance, music and a beautiful snow scene at the end."
Jan Cottingham, Managing Editor, Arkansas Business- The Bishop's Wife: "For this scene: Dudley (Cary Grant), the angel, tells a young girl, daughter of the bishop, the biblical story of David. Dudley ends his story with the 23rd Psalm, mesmerizing everyone. The movie is a beautiful mix of the secular and the sacred. And it makes me cry every time."
Lance Turner, Interactive Editor- Christmas Vacation: "It is always the go-to holiday movie for my family. The movie came out when I was in junior high, and dad took me to see it for my birthday. I think it was the only time I ever went to the movies with Dad. We had a great time, and of course we watch it every year."

Sydney Phillips, Research Assistant- The Polar Express: "The Polar Express, because who wouldn't love to be whisked away to the North Pole for a night filled with magic, hot chocolate and great songs?"
Devan Malone, Marketing Coordinator- National Lampoon's Christmas Vacation: "Mine is definitely National Lampoon's Christmas Vacation- mainly because my family loves watching it together and we see a lot of similarities between Clark Griswold and my dad."
Scott Haggard, Account Executive, Arkansas Business- One Magic Christmas: "One Magic Christmas with Mary Steenburgen because I have an 'entrepreneurial spirit' like her husband in the movie."
Natalie Fraser, Account Executive, Little Rock Family- Go (1999): "Nothing brings back warm holiday memories and holly jolly like the songs you love."
Tell us your favorite in the comment box below!
Get Little Rock Family
In Your Inbox
Permalink