10 Central Arkansas Coffee Shops To Get Your Daily Doses of Caffeine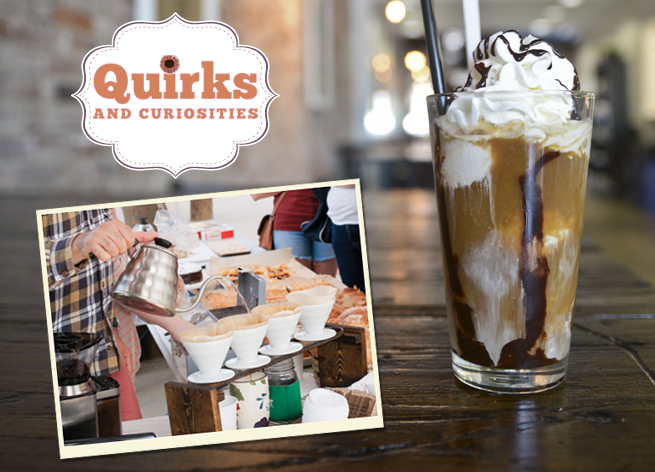 Late nights, early mornings, nonstop days. Most busy parents couldn't get through the routine without their daily dose of caffeine. So, moms and dads, this holiday's for you. Slurp down National Coffee Day on Sept. 29 at one of these Little Rock or North Little Rock coffee shops.
1. Andina Café & Coffee Roastery
433 E. 3rd St., Little Rock
376-2326
Try this: One of the three daily brews made from in-store roasted beans. Each day includes the house brew, a single origin coffee, and a flavored option which ranges from toasted southern pecan to caramel lavender.

2. Andres Coffee Shop Honduran Style
3300 JFK Blvd., North Little Rock
246-4586
Try this: This shop's Honduran-style, bold coffee is similar to an Americano. For a non-caffeinated beverage, try the horchata, a drink made with herbs and spices that tastes similar to Chai.

3. Boulevard Bread Company
Four locations: 1920 N. Grant St., 663-5951; 400 President Clinton Ave., 374-1232; 1417 S. Main St., 375-5100; 4301 W. Markham (UAMS), 526-6661, Little Rock
Try this: Boulevard's in-house brew and espresso beans have come from Mr. Espresso out of Oakley, CA since its opening days; now coffee lovers can try a second house brew, the light roast Onyx, based out of Springdale.

4. Community Bakery
Two locations: 1200 Main St., 375-7105; 270 S. Shackleford Road, 224-1656, Little Rock
Try this: Regulars swear by the Bourbon Street brew, a dark roast with a hint of chicory. During warmer months, cool off with an iced coffee that is cold brewed for 12 hours.

5. Guillermo's Gourmet Grounds
10700 Rodney Parham, Ste. A2, Little Rock
228-4448
Try this: The Italian Stallion, made with gourmet-grade, in-house roasted beans (the exact recipe remains the owner's closely-guarded secret). Or, sip a Shelled Mocha latte, flavored with hazelnut and chocolate syrups.

6. Mugs Café
515 Main St., North Little Rock
379-9101
Try this: Eiskaffee, an ice cream coffee float made with Loblolly vanilla bean ice cream, and topped with whipped cream and Ghirardelli chocolate

7. River City Tea, Coffee & Cream
2913 Kavanaugh Blvd., Little Rock
Try this: The "Drip of the Day," which ranges from exotic varieties like Sumatran Mandheling to satisfying sweets like Crème Brulee

8. Rosalia's Family Bakery
2701 Kavanaugh Blvd., Little Rock
319-7035
Try this: Cafezinho, a Brazilian-style espresso drink, made with raw sugar melted in the bottom, and a little bit of milk and foam.
9. Sufficient Grounds Café
Two locations: 124 W. Capitol, 372-1009; 425 W. Capitol, 372-0969; Little Rock
Try this: One of the funky flavored lattes, Chocolate Monkey (chocolate and banana) or Milky Way (chocolate and caramel)

10. The Joint
301 Main St., North Little Rock
372-0210
Try this: The frosty German chocolate, blended latte or the peanut butter mocha (served hot or cold)
Bonus: Mylo Coffee Co. has been hailed as one of the hottest coffee spots in town, even though it isn't located in a typical shop. Instead, the husband-and-wife owners serve up freshly-ground, pour-over coffee and inventive pastries at the Hillcrest Farmers Market and Bernice Garden Farmers Market on the weekends. Try a savory pissaladiere, or the falafel-inspired chickpea roll with your cup of Joe. The duo plans to open a permanent location at 2715 Kavanaugh Blvd. (the former location of River City Tea, Coffee & Cream) soon -- keep an eye on their Facebook page for news on the opening.
Permalink