Your Guide to Pumpkin Patches in Central Arkansas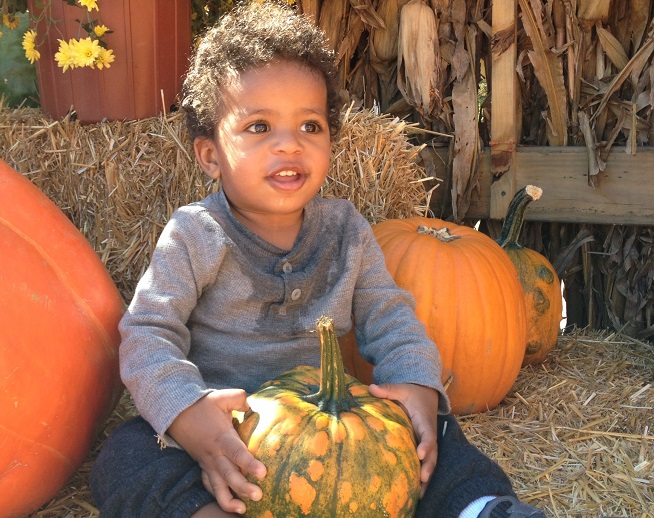 NOTE: This article is from 2013. Click here to read our updated list of pumpkin patches for 2014.
Looking for pick-your-own pumpkin patches, hayrides, corn mazes and other family harvest activities? Start planning your fall with this guide to 2013's top pumpkin patches in central Arkansas and beyond.
Please note: You should call ahead before visiting any of the following pumpkin patches; opening dates and hours are dependent on the weather for many of these farms.
Arkansas Frontier in Quitman
Not only can your family pluck a pumpkin from the U-Pick Pumpkin Patch, they can also learn about the lives of early settlers and Native Americans on the living history farm. Tour a replica of a settler home, learn a lesson in the schoolhouse and see a covered wagon. Little ones can also meet the animals who live on the farm—pigs, miniature horses, sheep, rabbits and a llama. In the Enchanted Forest, visitors stroll through a nature trail of storybook characters like Hansel and Gretel, Little Red Riding Hood and The Three Little Pigs.
1625 Wesley Chapel Road, Quitman. $8, includes all attractions; pumpkins purchased separately. Open Oct. 1-31: 9 a.m.-5 p.m. Sat. Available for groups by reservation Mon.-Fri. For info: (501) 589-3122, ArkansasFrontier.com.
Barnhill Orchards in Lonoke
If you've visited one of Little Rock's weekend farmers markets, then there's a good chance you've met Bob Barnhill and his family. In addition to fresh fruit, veggies and nuts, the family farm produces pumpkins in the fall. Stop by their family farm for an authentic, no-frills experience. Little ones can pick out a pumpkin from this year's crop and mom and dad can shop for fall produce, including spaghetti and acorn squash.
277 Sandhill Road, Lonoke. Prices of pumpkins vary by size. Opens the second week in Oct.: 8 a.m.-6 p.m. daily. Call ahead before visiting. For info: (501) 286-2677, BarnhillOrchards.com.
BoBrook Farms in Roland
Just down the road from Pinnacle Mountain State Park, you'll find this charming sunflower maze and pumpkin patch. Enjoy a hayride, sunflower maze, farm animals and a hay maze. Plus, kids can climb on a hay mountain formed from 200-300 bales of hay, and jump into the corn pit of 3000 pounds of corn. When you're ready to find a pumpkin, head to the 12-row pumpkin patch; some of the pumpkins are even left on the vine for families to cut themselves. Concessions and crafts are also available for purchase.
3810 Combee Lane, Roland. $6, includes all attractions; pumpkins sold separately and range from 50 cents-$12. Oct. 3-31: 9 a.m.-5 p.m. Mon.-Fri., 9 a.m.-6 p.m. Sat. & Sun. For info: (501) 519-5666, BoBrookFarms.com.
Cox Berry Farm & Nursery in Clarksville
This family-owned farm in Clarksville has been in business for more than 40 years; families can choose from many Pick-Your-Own experiences, starting in the spring with strawberries and ending in late fall with pumpkins. During the autumn season, younger children will love walking along a trail lined with fun characters, decorations and photo opps.
1081 Hwy. 818, Clarksville. Opens Oct. 1. For info and hours: (479) 754-3707, CoxBerryFarm.com.
Family Farm Fall Harvest and Pumpkin Patch in Malvern
Known by local families for its summer day camp, Family Farm also hosts a pumpkin patch in October. Visitors can enjoy a hayride and John Deer train, fishing in the pond, petting farm animals, braving the "slide mountain" and running through hay tunnels.
18448 Hwy. 67, Malvern. Oct.5-26: 9 a.m.-5 p.m. Sat. For info: (501) 337-4171, FamilyFarm.org.
Garner Homestead Family Farm in Lonsdale near Hot Springs
Day trip to this family farm near Hot Springs for the complete autumn harvest experience, including a hayride, barnyard animal show featuring a dancing chicken and a rabbit that plays the piano, cornfield trails to run through, an animal petting area and, of course, pumpkins. Youngsters can also frolic in a play area with tire swings, tunnels and climbing poles, hunt for arrowheads in the "arrowhead hunting grounds," or hike a woodland trail down to a creek bank where kiddos can pan for "fool's gold."
1376 Hwy. 128/Hot Springs Village Cutoff, Lonsdale. $6 includes all attractions, children under 3 free; pumpkins sold separately and range from $2-$25. Sept. 24-Nov. 2: 10 a.m.-4 p.m. Tue.-Sat. For info: (501) 463-0510, GarnerHomesteadFamilyFarm.com.
Hicks Family Farms Corn Maze & Pumpkin Patch in Lonoke
Romp through the 6-acre corn maze, or visit the pumpkin patch and a barnyard full of farm animals. Little ones can saddle up for a pony ride and the whole family can take a hay ride.
184 Lasiter Road, Lonoke. $8 includes all attractions, children under 5 free; pumpkins and food sold separately. Sept. 28-Nov. 3: 10 a.m.-6 p.m. Sat. and 1-6 p.m. Sun. Field trips for groups available during the week by reservation. For info: (501) 941-2703, HicksFamilyFarms.com.
Holland Bottom Farm in Cabot
Stop by this produce stand for decorative gourds, white pumpkins and mums to spruce up your front porch; or shop for edibles like tomatoes, sweet potatoes, squash, pie pumpkins, honey, jam, sorghum syrup and more are also available. For a pick-your-own experience, head across the highway to the farm. On the last two weekends before Halloween, families can hop on a free hay ride (10 a.m.-6 p.m. Sat. & Sun.).
1255 Bill Foster Memorial Hwy./Hwy. 321, Cabot. Produce stand open through Oct. 31: 10 a.m.-6 p.m. daily. For info: (501) 843-7152, (501) 743-8181, HollandBottomFarm.com.
Mary's Place Pumpkin Patch in Bryant
At Mary's Place, kids will enjoy train rides through an old town setting, a wooden maze, a treehouse and a pumpkin patch.
3705 Hwy. 5 N., Bryant. Sept. 26-Nov. 9: 9 a.m.-5 p.m. Mon.-Sat. $7.50 includes hayride and pumpkin. For info: (501) 847-3900, MarysPlaceinBryant.com.
Motley's Pumpkin Patch in Little Rock
This Little Rock farm offers a full day of fun, including a pick-your-own pumpkin patch, country store, tractor-drawn wagon rides and petting zoo. Kids can also climb on a hay bale mountain and take a slide back down to the ground. Or, pick an oinker to compete in the pig races. Plus, don't miss a special performance of Tommy Terrific's Wacky Magic Show (see website for schedule).
13724 Sandy Ann Drive, Little Rock. $8, children under 3 and seniors ages 55 and up free. Sept. 28-Nov. 3: 9 a.m.-6 p.m. Sat. & Sun. For info: (501) 888-1129, MotleysPumpkinPatch.com.
Mountain Home Berry Farm
If you're in the northern part of the state during the harvest months, make a stop at this popular attraction. During its Fall Festival, families can go on hour-long hayride tour that stops by the petting zoo (featuring an adorable miniature donkey), Mulch Mountain, kid's corn maze and the pumpkin patch.
693 County Road 57, Mountain Home. Entry to pumpkin patch free; $6 includes Fall Festival attractions; pumpkins sold separately. Sept. 20-Nov. 3: noon-5 p.m. Fri., 10 a.m.-5 p.m. Sat. & Sun. Available to groups by reservation Wed.-Fri. For info: (870) 425-7028, MountainHomeBerryFarm.com.
Peebles Farm in Augusta
Pumpkins take over 60 acres of Peebles Farm, with 10 acres set aside for visitors to pick their own. Plus, visitors can hop on horse and carriage rides, gaze at a beautiful sunflower field, explore the you-pick cotton field and more. Adventurous tykes can stumble through a 20-acre corn maze—from the air, the labyrinth forms the outline of a steamboat. Fearless families can even try and navigate the maze with flashlights after dark on Friday and Saturday evenings, but be prepared for some extra thrills and frights!
Hwy. 64 between Augusta and McCrory, Augusta. $8 includes farm admission and corn maze, hayrides $5, horse and carriage rides $3. Sept. 26-Oct. 31: 9 a.m.-6 p.m. Mon.-Thu., 9 a.m.-10 p.m. Fri. & Sat., 1-8 p.m. Sun. For info: (870) 919-6162, PeeblesFarm.com.
Pumpkin Hollow in Piggott
Spend a beautiful autumn day enjoying all the fun, including the corn mazes, hayrides, catfish feeding, pony rides and pig scrambles (weekends), farm animals, Kids' Barn, kids' "train" ride, a new slide down the pond levee, shopping, tasty treats, haunted attractions, and much more. The Friendly Forest, decked out with scenes and interactive displays, is designed just for children and the faint-of-heart. Two separate corn mazes with different difficulty levels are also available for visitors. Maze goers will hunt for objects as they attempt to solve this new puzzle. Bring a flashnight and brave the mazes on Fright Nights, if you dare. Campfires and wiener roasts available by reservation for groups of 10 or more.
671 County Road 336, Piggott. $10 for standard package, $15 for Kids' Daytime Armbands. Sept. 21-Oct. 31: 9 a.m.-6 p.m. Mon.-Sat., 1-6 p.m. Sun. Corn Maze open additional evening hours on Fright Nights; see website for details. For info: (870) 598-3568, PumpkinHollow.com.
Schaefers and Collins Pumpkin Patch & Schaefers Corn Maze in Mayflower
Visitors take a hayride to the field where the pumpkins are grown to pick out a specimen to take home. Children can also meet the barnyard animals and tumble around a play area with hay tunnels, cut-outs for pictures, a large sand box, swings and more. On weekends, kids will delight in train and pony rides, bounce houses and face painting (additional cost). And, during the last two weekends of the season, families can get spooked on haunted hayrides. After all the wholesome fun, head to farm next door to get lost in the corn maze—every year a new design is etched into the corn stalks.
Pumpkin patch: 862 Lollie Road, Mayflower. $5 includes play area, hayride and a pumpkin; hayride only $1; haunted hayride $5; other attractions and concessions available for additional fees. Sept. 28-Oct. 31: Mon.-Sat. 9 a.m.-6 p.m., Sun. noon-6 p.m.; haunted hayrides from dark until 11 p.m. Fri. & Sat. For info: (501) 470-3127, SchaefersPumpkinPatch.com.
Corn maze: $7, seniors ages 60 and up $6, children ages 3-12 $5, children under 3 free; mini corn maze, hayride and train ride $3 each. Weather permitting, the maze will be open Sept. 28-Oct. 31; check website for updates. Noon-10:30 p.m. Fri., 10 a.m.-11 p.m. Sat., 1-8 p.m. Sun. For info: (501) 269-7903, SchaefersCornMaze.com.
BONUS: Pooches and Pumpkins at The Good Earth Garden Center
On Oct. 19, families can visit The Good Earth Garden Center for its annual fall festival—with Fido in tow, too! The dog- and kid-friendly event includes a pet costume contest, hayrides, face painting, live music, free hot dogs and popcorn and more. Kids and pets in costume will receive a free mini pumpkin while supplies last. 11 a.m.-3 p.m. For info: TheGoodEarthGarden.com. FREE!
Permalink