Weekend Family Fun: 10 Festivals, Concerts, Plays and More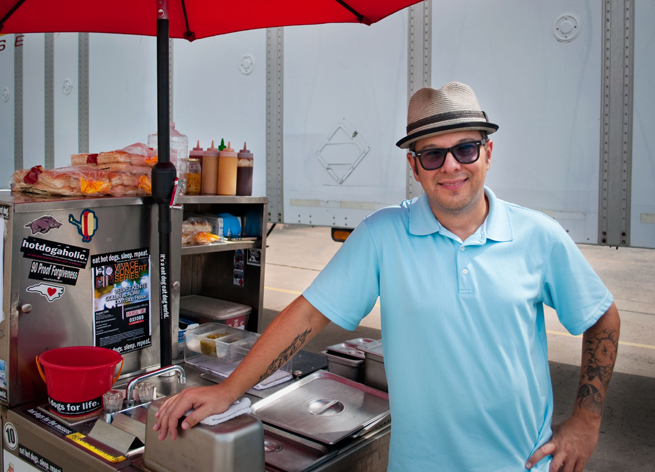 Scrumptious dishes at the Main Street Food Truck Festival, Americana concerts at Wildwood Park for the Arts, the Hollywood treatment at the Old State House Museum's Lights! Camera! Arkansas! Family Day -- central Arkansas is on a mission for fun overload this weekend.
Friday, Oct. 4-Sunday, Oct. 6
"Pinkalicious the Musical" at Arkansas Arts Center Children's Theatre -- This weekend is your family's last chance to see this spunky musical about a contrary little girl who can't stop eating pink cupcakes despite warnings from her parents. Her indulgence lands her at the doctor's office with pinkititis, an affliction that turns her pink from head to toe. It sounds like a dream come true for this pink enthusiast, but she soon realizes that she may have gone too far. $12.50, $10 for AAC members. 7 p.m. Fri., 2 p.m. Sat. & Sun. For info: ArkansasArtsCenter.org.
Saturday, Oct. 5
25th Annual Wrightsville Day Celebration at Wrightsville City Hall Park -- Festivities kick off with our annual parade then stick around for a jammed pack day of activities for all ages including live musical performances, activities in Kid Zone, free health screenings, food vendors, hourly prize drawings, and more. Tours of the newly opened Millie M. Brooks library will also be available. 10 a.m. For info, call (501) 352-8651 or (501) 897-4547. FREE!
DennyWest at Wildwood Park for the Arts -- Wildwood presents its first outdoor Americana acoustic music festival. The gates open for lunch and free hayrides around the lake at 11 a.m. Ukulele Bill kicks off the family concert at 1 p.m. with his ukulele standards. He'll also demonstrate how he builds and plays the mini guitars from Hawaii. Next up is REAL Entertaining, four young sisters from Jacksonville who play old American standards on multiple instruments. At 3 p.m., Mr. Morphis One Man Band will deliver his entertaining American folk tunes, selected especially for kids and families. The Hartley Family Bluegrass Band closes out the afternoon entertainment with their rousing bluegrass concert at 4 p.m. The evening lineup starts at 6:30 p.m. Concert-goers are urged to bring lawn chairs and blankets. Concessions, including Wildwood's bratwursts and beer, along with baked sweet potatoes, drinks, and desserts, will be available for sale. Afternoon events $10, children ages 6-12 $5, children under 6 free; tickets for event concerts separate. 11 a.m.-11 p.m. For info: WildwoodPark.org.
Fall Festival & Silent Auction at Little Rock Montessori School -- Families can play games and hop in a jump house. There will be a cake walk, concessions, and a silent auction (bidding ends at 1 pm). Children may wear costumes, but no scary or violent costumes will be allowed. $10 per family. 10 a.m.-2 p.m. For info, call (501) 225-2428.
Free Dad's Day at The Wonder Place -- Dads get in free at The Wonder Place today when they take their kiddos to the playspace. Youngsters can splash in the water table, put on a theatrical production on the drama stage and more. $7 per child; free for dads with the purchase of at least one regular price admission. 9 a.m. For info: TheWonderPlace.com.
Lights! Camera! Arkansas! Family Day at Old State House Museum -- Take part in this day of family activities based on the newest exhibit, Lights! Camera! Arkansas! Design a personalized Hollywood Walk of Fame star and make sound for silent movies in a sound booth. Create your own zoetrope, an early form of moving pictures, to take home. There will also be photo booths where your family can have a picture taken as a movie star (cowboy, starlet, detective, etc.). The museum will provide popcorn, lemonade and water. 9:30 a.m.-1 p.m. For info: OldStateHouse.com. FREE!
Main Street Food Truck Festival in Downtown Little Rock -- Over 25 food trucks will line Main Street and will be joined by beer gardens, wandering street performers, live music and Etsy craft vendors. Plus, at the Heifer International Children's Plaza, kids can play games and make crafts that teach how the organization helps people around the world, including the Haiti Fishing Game and bird feeder craft. 11 a.m.-4 p.m. For info, click here. FREE!
Lightwire Theatre's "The Ugly Duckling" & "The Tortoise and The Hare" at Reynolds Performance Hall in Conway -- Lightwire Theatre brings new life to a pair of classic tales, Hans Christian Andersen's "The Ugly Duckling" and Aesop's fable, "The Tortoise and The Hare." Lined with electroluminescent wire and using laser and LED technology, these well-known characters illuminate the darkened stage as they tell the beloved stories of perseverance and resilience, captivating audiences of all ages. Lightwire Theatre was a semi-finalist on the 2012 season of America's Got Talent. $10, students and children $5. 10 a.m. For info: UCA.edu/PublicAppearances.
Star Wars Reads Day at Barnes & Noble in Little Rock -- Teens are invited to the bookstore dressed as their favorite Star Wars character for National Star Wars Reads Day for readings of the books and special themed activities. 10:30 a.m.-12:30 p.m. For info: BarnesAndNoble.com. FREE!
Sunday, Oct. 6
30th Annual Fish Fry at Camp Aldersgate -- There will be a fish fry, great family entertainment, old fashioned bake sale, live music, baggo, mobile aquarium, cupcake walk, face painting, carousel rides, kids fishing derby, pumpkin patch, and more fun fall activities. Some activities have a small cost to participate. $15, children under 7 free. Noon-3 p.m. For info: CampAldersgate.net.
Bonus Parents' Night Out!
Friday, Oct. 5
7th Annual Mane Event at the River Market Pavilion -- The event, emceed by KSSN's Bob Robbins, will feature a live auction that includes travel packages and fine jewelry, as well as an extensive collection of art pieces from locally and nationally-known artists. The event will also include a silent auction, dinner, drinks and live entertainment provided by the Luke Williams Band. Proceeds benenfit Beyond Boundaries, an equine assisted therapy center. $45. 7-11 p.m. For info: BeyondBoundariesAR.com.
13th Annual Hearts & Hooves Hoedown at Hearts & Hooves Arena in Sherwood -- This evening includes dinner, live music, silent and live auctions (by Craig O'Neill) and an art walk by special equestrians. Smell the steaks cooking on the grill, feast your eyes on the horses in the pasture, and kick back and enjoy the evening. This event is entirely volunteer-based; all proceeds go to the benefit programs from Hearts & Hooves. $65. 6 p.m. For info: HeartsAndHooves.com.
Permalink