5 Christmas Tree Farms in Little Rock and Central Arkansas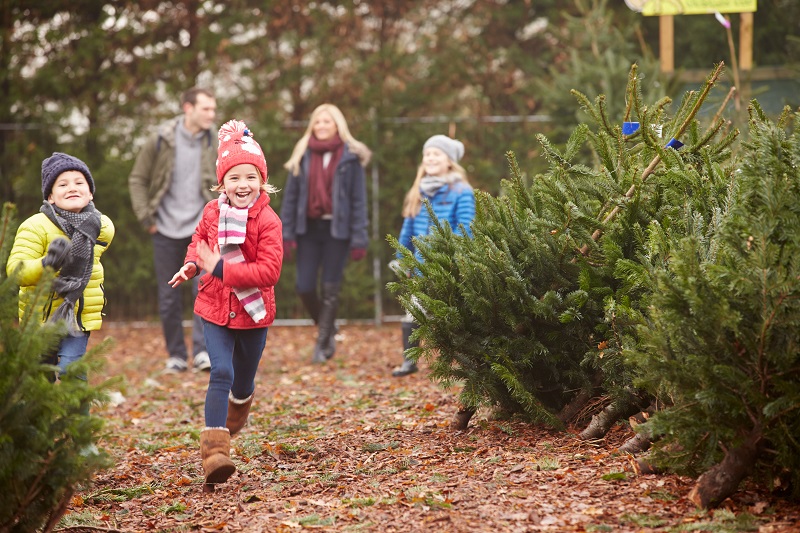 Preparing for the holidays? Don't wait until the last minute to buy your tree and get stuck with slim pickings a few days before Christmas. Bookmark this list of Christmas tree farms in Little Rock and central Arkansas, instead!
In addition to choosing your tree straight from the crop, most Christmas tree farms offer other fun activities, like hay rides, visits with Santa and the option of chopping down your own Christmas tree, Paul Bunyan-style. When your family has slept off the memories of turkey and Black Friday, here's where to buy a Christmas tree in Little Rock and central Arkansas.
Motley's Christmas Tree Farm in Little Rock
Hop on a free wagon ride into the tree farm to chop down your very own Christmas tree—saws are provided. Or, choose the perfect "Living Christmas Tree," which comes in a potted container and can be planted outdoors after the holiday season. Families can also enjoy kid-friendly activities like pig races, a farm zoo and a cow train. And, in the gift shop, choose from thousands of ornaments to adorn your freshly cut tree.
13724 Sandy Ann Drive, Little Rock. Open Nov. 14-Dec. 20: 1-5 p.m. Tue.-Fri., 9 a.m.-5 p.m. Sat.-Sun. Closed Thanksgiving Day. For info: (501) 888-1129, MotleysTreeFarm.com.
Muddy Creek Christmas Tree Farm in Mabelvale
Get a taste of the holidays as you enjoy hot chocolate. Then, choose and chop the perfect Leyland, Murray, Carolina or Arizona Cypress to tote back home and decorate with tinsel and lights. Families can also pick up fresh wreaths made from Balsam fir or artificial wreaths fashioned from poly mesh.
22109 Easter Lance, Mabelvale. Open Nov. 21-Dec. 20: 9 a.m.-dark Sat.-Sun. (plus Friday, Nov. 27). For info: (501) 773-4725, MuddyCreekChristmasTreeFarm.com.
Papa Santa's Christmas Tree Farm in Benton
Located on the outskirts of Benton, this quaint farm provides saws for adventurous visitors to cut down their own trees. Families can also go on a wagon ride, and snack on free candy canes or sip complimentary hot cocoa and cider (or cold punch for warmer days). Plus, beginning the Saturday after Thanksgiving, kids can share Christmas wishes with Santa Claus, no purchase required—bring your own camera to snag a free photo (2-5 p.m. Saturdays). On your way out, grab a free bag of reindeer food to take home. Sprinkle the concoction around the yard on Christmas Eve to attract Santa's sleigh-pullers.
4976 Warford Road, Benton. Open Nov. 21-Dec. 20: 8 a.m.-5 p.m. Sat. & Sun (plus Friday, Nov. 27); other times are available by appointment. For info: (501) 779-1062, Facebook.com/PapaSantasChristmasTreeFarm.
Romance Christmas Tree Farm in Romance
This small farm near Rose Bud offers Leyland Cypress, Fraser Firs and Virginia Pines. Plus, they offer free cocoa and a tractor-pulled cow train for the kiddos.
1238 Hwy. 5 N., Romance. Open Nov. 27-Dec. 20: 9 a.m.-5 p.m. Fri.-Sun. For info: (501) 556-5173, RomanceChristmasTrees.com.
The Bradbury Tree Farm in Mabelvale
This farm has been growing trees since 1979; venture out into 35 acres of Virginia Pine and Leyland Cyprus to chop your own tree (saws provided). Fraser Firs are also available. Children will go home with free coloring books and candy canes. And parents can purchase a decorative wreath or a sprig of mistletoe, if the mood strikes.
9427 Donna Lane, Mablevale. Open Nov. 27-Dec. 24; 9 a.m.-7 p.m. daily. For info: (501) 602-2449.
Get Little Rock Family
In Your Inbox
Permalink