Meet Jennifer Ferguson, Little Rock Family's 2014 Mom's Day Off Winner
As the staff of Little Rock Family started digging through this year's Mom's Day Off nominations, we quickly realized choosing a winner was not going to be easy. We were blown away by superwoman moms who were running businesses, fighting cancer, raising children with special needs, volunteering and more. We wanted to reward every one of these overworked moms with a day of fun.
But we kept going back to a nomination for a busy mom from Maumelle—Jennifer Ferguson. She was raising five kids as a newly single mom and working full-time; yet, the nomination submitted by her mother, Diane, radiated positivity. In the midst of tough times, she was still passionate about serving her community. "I admire her so very much as an incredible, involved mother, as well as her desire to be a voice and a part of so many children's lives other than just her own," the nomination read.
Then, we realized that Jennifer had been nominated not once, but twice. Her second nomination from coworker La Keesha Murrill stated: "Jennifer's patience, kind-heartedness, honesty, and positive attitude is infectious and drives those that come in contact with her."
Those qualities serve her well as a mother to Braydon, 15, Reagan and Mckenzie, 12, Kayl, 9, and Gunnar,8. "There's never a dull moment in my house," Jennifer says, though she maintains that having five children is no more difficult than raising three. "Once the kids outnumber the adults, it's not any different. There's always someone to play with." The athletic and outdoorsy family enjoys going to Lake Willastein Park in Maumelle and discovered geocaching last summer. The kids are on the swim team and play football, and the girls are begging to join softball this year. Jennifer even joined the all-male board of the Maumelle Youth Basketball Association and started a league for girl players three years ago. This is the first year that she didn't coach her daughters' basketball team: "I wanted to be the mom instead of the coach. I wanted the opportunity to be their cheerleader," she says.
After dedicating 10 years to her family as a stay-at-home mom, Jennifer joined the staff at the American Heart Association, where she worked for almost five years. Now she's a community director for the March of Dimes Arkansas Chapter and works on community and fundraising events like the Central Arkansas March for Babies (April 26) and the Central Arkansas Jail and Bail (June 19). "My passion is March of Dimes. I have mission babies, so that was a dream job," she says, adding that three of her children wouldn't be here if it weren't for the nonprofit's work.
Her identical twin daughters, Reagan and Mckenzie, set her on the path for advocacy and fundraising. "You tend to lose yourself—especially having five kids—because you're a mom from the minute they wake up to the minute they go to bed," Jennifer says. "There was a period of time when I thought, 'Who am I? I've got to find something for myself.' I got really involved with church. But getting involved with the Twins Club—that was my big 'I can do this' moment," she says.
Jennifer joined the board of the Twins Club and worked for four years to pass the Twins Law in Arkansas, which gives parents of multiples the right to choose whether their children are in the same classroom through the 6th grade. "I think you can be a great mom and still accomplish the goals you want to accomplish," she says. "A lot of it is easier said than done. Just like with any goal, when you start pushing yourself, things start happening."
Congratulations to Jennifer Ferguson—we can't thank her enough for helping make central Arkansas a better place. For her reward, Mom's Day Off sponsor Pleasant Ridge Town Center showered her with an amazing prize package. Go behind the scenes of Jennifer's Mom's Day Off in the slideshow above and see the details below.
Mom to Model
1. Shopping
First Mom's Day Off stop: clothes shopping for the photo shoot. Tanya at Beyond Cotton, II in the Pleasant Ridge Town Center opened the boutique on a Sunday afternoon for Jennifer's private shopping experience. Jennifer, a jeans and t-shirt kind of gal and University of Arkansas alum, fell in love with a comfy Razorback tee, which Tanya dressed up with glam gold hoops. Tanya also helped accessorize an Eileen Fisher tunic with layered necklaces and gorgeous dresses from Belk with stand-out earrings. For info: 221-1539.
2. Hair
Around the corner at Salon Scarlet, stylist Jessica Smith washed Jennifer's long locks and started on a fun, flirty 'do for the photo shoot using Oribe products. While Jennifer's hair was still damp, she sprayed the Maximista thickening spray from roots to ends. Jessica applied Grandiose at the root to add volume, and ran the smoothing Gel Serum from the mid-section to the ends of the hair. After blow drying, the Soft Lacquer product helped to protect from the curling iron heat and set curls. Jessica then finished off the look with the Dry Texture Spray, which provided a matte finish and hold. For info: 221-1191, SalonScarlet.com.
3. Makeup
Over at the skincare and makeup mecca, Pout (formerly known as Glo Limited), Kristin Ivey gave Jennifer a photo ready look. Focusing on the eyes with Laura Mercier goodies, she applied Ballet Pink, Plum Smoke, and Bamboo and Truffle for shadowing. She created a slight cat eye, topped off with Chantecaille Faux Cils Longest Lash Mascara. Kristin gave Jennifer some color and definition with a pop of Laura Mercier Rose Bloom cheek color, a dusting of Matte Radiance Bronzer and a swipe of Matte Radiance Highlighting Powder around the eyes. With a light dab of Purple Haze Stick Gloss on Jennifer's lips, we were ready to hit our next destination. For info: 224-8222.
4. Photo shoot
After a light lunch at Panera Bread in the Pleasant Ridge Town Center, we visited Meredith Melody Photography's airy Hillcrest studio. The photographer turned on some high-energy tunes and Jennifer slipped into her first ensemble. As a woman, mom and glamour portrait photographer, Meredith understands how to make every woman look her absolute best in the camera lens. She demonstrated a variety of poses, fluffed Jennifer's hair and gave her windblown effect with a hairdryer, and used the sunlight streaming in the windows to create soft, natural portraits. For info: MeredithMelody.com.
5. Gift Package
In addition to her day off, Jennifer also received an amazing prize package from Pleasant Ridge Town Center, including the items below. To see pictures of Jennifer receiving her prize package, visit our Facebook page!
-Gift card from Little Greek Restaurant - Little Rock, Arkansas
-$500 toward laser hair removal at Ideal Image
-A Kai body buffer from Vesta's
-one-month unlimited membership to Pure Barre Little Rock
-5K training program with Fleet Feet Easy Runner
-nutrition supplements from Total Nutrition
-gift card to Beehive - Little Rock
-gift card to Embellish Interiors
-Teva flip-flops from Warren's Shoes
-Girl's Night Out gift package for Jennifer and five friends from Pinot's Palette - Little Rock
-bottle of champagne and gift basket from Pinot's Palette
-"Miss Mother Nature" 30x40 painting from Pinot's Palette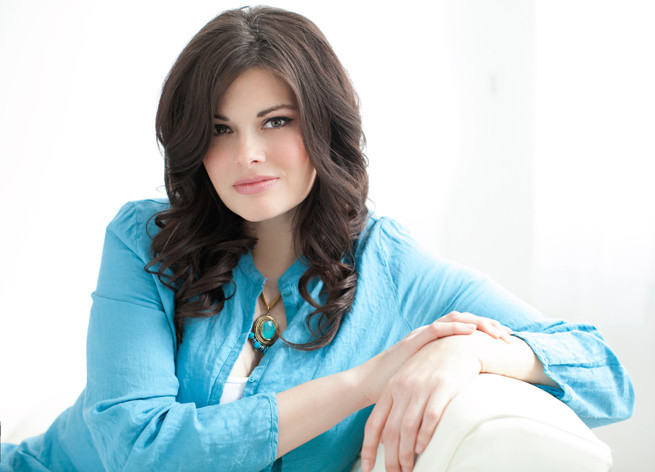 Get Little Rock Family
In Your Inbox
Permalink