How to Help Arkansas Tornado Victims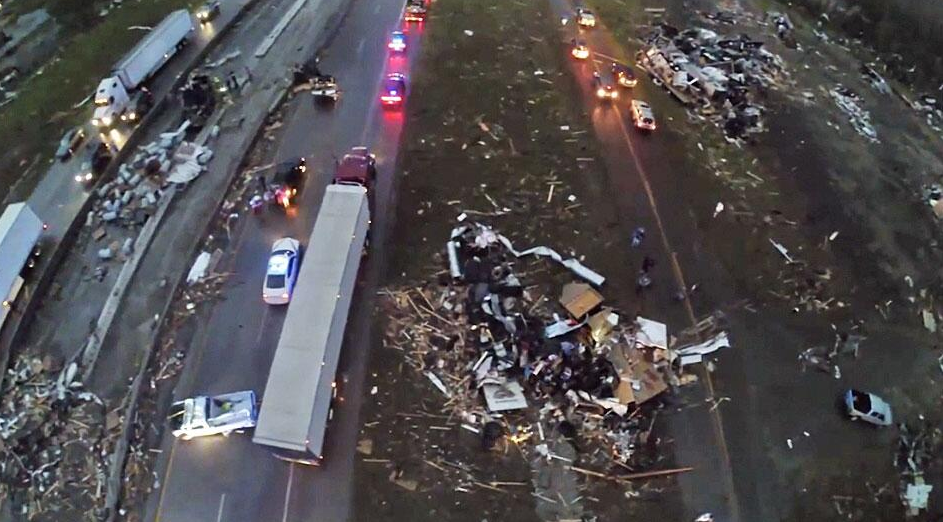 In the aftermath of the devastating storms that occurred throughout central Arkansas last night, many Arkansans are looking for ways to help out. Our sister publication, Little Rock Soiree, has compiled the following list of places to donate, where to find shelter and more. Little Rock Soirée and Arkansas Business, will continue to keep readers posted on relief efforts.
Where to donate:
The Red Cross is accepting donations at its website or by texting "red cross" to 90999 to make a $10 donation. Charges will apply to your next cell phone bill.
Donations can be made to the Salvation Army at their website or at (800) 725-2769. You can also text "STORM" to 80888 for a $10 donation.
New Life Church is accepting donations at www.ardreamcenter.tv/tornado.
Donations to the Arkansas Rice Depot can be made by texting "FEED" to 74700 to make an immediate $5 or $10 donation. You can also go to www.ricedepot.org and click "GIVE TODAY." Arkansas Rice Depot is also putting together Disaster Meal Kits. Click here to view what is needed.
The Arkansas Foodbank is accepting water and non-perishable food donations at its warehouse, 4301 W. 65th Street in Little Rock. For more information, click here.
The United Way of Central Arkansas, located in Conway, is also taking donations. Click here to view what is needed.
E. Leigh's boutique has drop-off areas at their Little Rock, 2911 Kavanaugh Blvd., and Conway, 830 Front St., locations. Click here to see what is needed.
Vesta's, located at 11525 Cantrell Road, Suite 610, in Little Rock, is holding a clothing drive. Call 375-7820 for more information.
Pitza 42, located at 2335 Dave Ward Drive, is also collecting items for storm victims. Click here to see what is needed.
ZaZa, Big Orange and Local Lime are serving as donation stations for the Red Cross. Different donation totals get you free food at each restaurant. For more information, each restaurant's name is linked back to its Facebook page above.
Pets:
The Pets Lost and Found Network has set up a Facebook group for owners and finders of lost and found pets from last night's storms. Join the group here.
CARE is accepting pet food donations through its new Paws in the Pantry program. The organization has delivered more than 1,500 pounds of pet food to displaced pets and families in Mayflower. Click here for more information.
Shelters:
Multiple shelters have been set up across the areas that were affected the most by the storms. KATV mentioned the following places have shelters in Faulkner County:
Mayflower Middle School: 17 Leslie St.
Mayflower High School Gym: 10 Leslie King Drive
Beryl Baptist Church: 873 U.S. 64 in Vilonia
Arkansas District Pentecostal Church of God: Vilonia
Antioch Baptist Church: 150 Amity Road in Conway
St. Joseph's Catholic Church: 1115 College Ave. in Conway
Oak Bowery Baptist Church: 889 Otto Road in Conway
Point of Grace: 767 U.S. 64 B in Conway-Vilonia area
In Pulaski County, the Ferncliff Camp and Conference Center, at 1720 Ferncliff Rd., is also opened as a shelter.
Verizon Wireless is providing device-charing stations for those affected in Mayflower and Vilonia, in addition to first responders. The stations also have on-site emergency phones and Wi-Fi capability.
The stations are located at the Mayflower Middle School at 10 Leslie King Drive, the Plantation Acres Subdivision in Mayflower, the Vilonia City Hall at 18 Bise St., Beryl Baptist Church at 873 U.S. 64 B in Vilonia, the Wal-Mart at 1155 Skyline Drive in Conway and the Best Buy at 600 Elsinger Blvd. in Conway.
The stations will be open 10 a.m. to dusk or as long as the communities need the services.
In addition, Verizon has announced overage charges for voice, data and text use for the entire month of May will be waived for customers in the impacted areas around Mayflower and Vilonia. That includes ZIP codes 72034, 72032, 72106 and 72173.
Get Little Rock Family
In Your Inbox
Permalink