New Big Rock Mini Golf & Fun Park Offers Family Attractions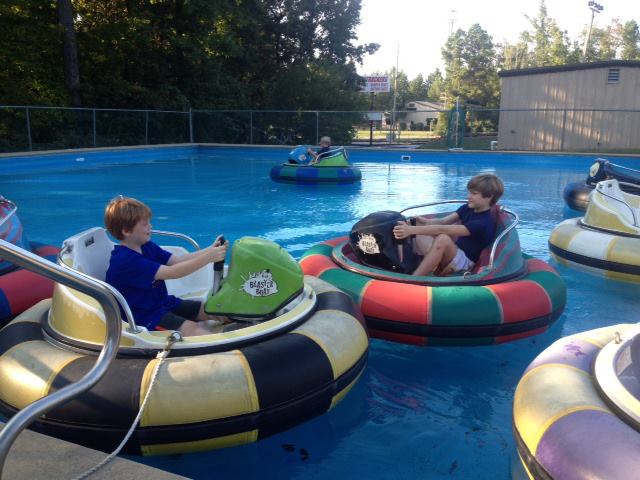 Big Rock Fun Park is now open in Little Rock, providing local families with an arcade, go-carts, batting cages and more. Located at the former Sun Trackers near Bass Pro Shop, the park's planned expansion includes two, brand-new 18-hole mini golf courses, set to open in May or June.
Marci Hugg Hall is the owner of the new venture, and is passionate about bringing more family-friendly entertainment to central Arkansas. Ben Faires, the general manager of Big Rock, says that Hall is especially excited about reintroducing mini golf to the metro area, since the closest course is located in Hot Springs.
"Most, if not all of our holes will be handicap-accessible," Faires says. Plus, Faires says he and Hall hope that the park will be a safe, positive atmosphere for youth. "We're looking to pursue more than just a business. We're passionate about the community. We're both driven by fitness and being active outdoors. She wanted to do something that appealed to kids, and give them a place to go to do something fun and active," Faires says.
Currently, families can visit the indoor arcade, complete with air hockey, Dance, Dance Revolution, Skee-ball, pinball, and two televisions set up with Wii game systems. Visitors can also race on the 400-meter go-cart track, take a swing in the batting cages and float around the pool in the bumper boats during warm weather.
The mini golf courses are currently under construction and are tentatively scheduled to open in mid-May or early June. Depending on the success of the mini golf courses, future plans also include an outdoor rock-climbing feature, and a ropes course with cargo nets, a zip line and other obstacles.
Faires says a new building is also being constructed to connect to the existing building and arcade. In addition to housing a new concession area, the space will also serve as a birthday party room. Faires says the park is a great spot for scheduling birthdays because of it's versatility: "They can do something outdoors with the batting cages and bumper cars, but have the safety of indoor attractions in case it rains," Faires says.
Birthday party packages are $99.95, plus tax for up to 10 people. The package includes one fountain drink and cupcake per guest, and one activity per person (go-carts, bumper boats, batting cages, mini golf). Each person also receives 15 tokens for the arcade, and birthday boys and girls get an extra 15 tokens. Additional attendees are $10 each.
Big Rock Mini Golf is located at 11411 Baseline Road in Little Rock. For more info, regular attraction prices and hours of operation, visit BigRockFunPark.com or check out their Facebook page here.
Get Little Rock Family
In Your Inbox
Permalink